Hydrotherapy for dogs and how it can help dog arthritis symptoms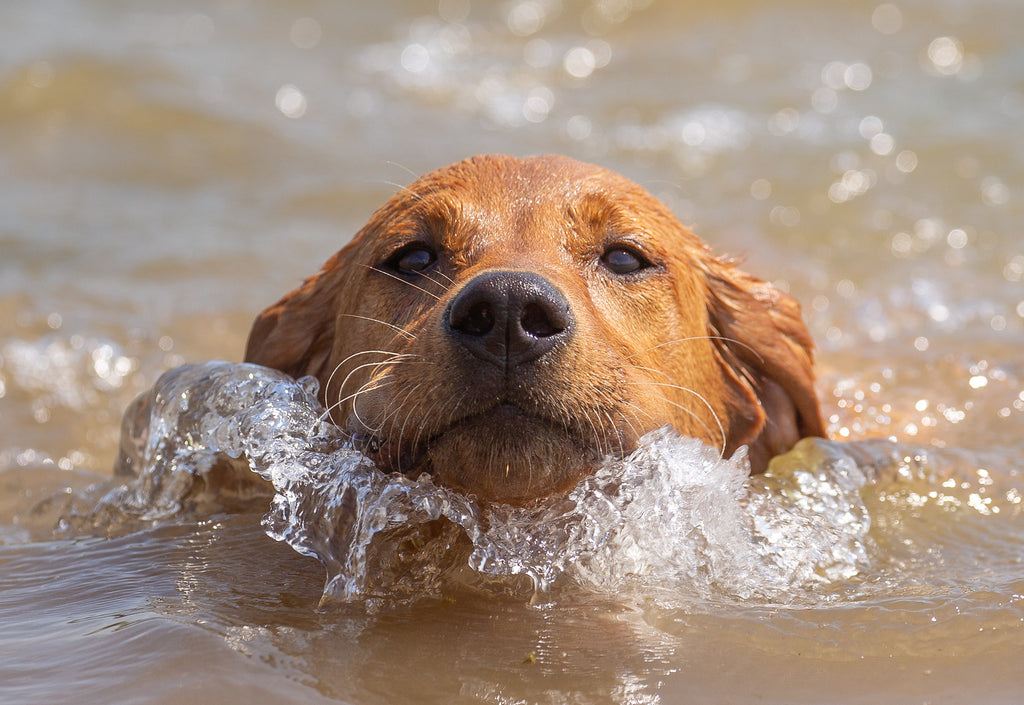 The New Year is often a time of reflection and change. We make resolutions which tend to be focussed around health and wellness. We look for new recipes, join gyms and endeavour to take better care of ourselves. Swimming is a popular choice as it provides us with physical and mental benefits, while being easy on our bones and joints. It's a fantastic way to keep in shape, but have you ever considered how good it could also be for your dog?
It is a sad fact but research has indicated that up to 20% of adult dogs in the UK have arthritis, and that number jumps up to 65% for dogs over the age of 7. With more than half of our older dogs suffering with arthritis, what can we do to support them? So what is arthritis? Arthritis is a condition which causes inflammation in the joints, making it painful for your dog to move about. Osteoarthritis, also known as degenerative joint disease, is the term used to describe the progressive deterioration of the joints as a result of this inflammation. What are the symptoms? Arthritis is a progressive disease and symptoms can develop slowly making it difficult to detect right away. The first thing you might notice is your dog starting to slow down; they might take it easier on walks, be reluctant to play as much or they might take longer to go up the stairs or jump on their favourite chair. Other symptoms can include:
Limping or lamenessStiffness when they walk - which might seem more pronounced after a rest or exercise

A disliking to you touching certain joints

Muscle wasting

Being quiet, grumpy or sleeping more than usual

Licking or chewing areas that are painful - or even saliva stains around their joints

Slowing down on walks

Reluctance to jump up on the sofa or climb the stairs (when normally they would)
What causes arthritis in dogs? Arthritis is most common in older dogs and can be caused by wear and tear on the joints. It can also be the result of:
How is it treated? Unfortunately, there is no cure for arthritis, but the pain can often be managed with anti-inflammatories and/or painkillers prescribed by your vet. Relieving the pain can help your dog move about a little more, which in turn helps maintain those supporting muscles. Massage, certain supplements and hydrotherapy have also been known to help.
Hydrotherapy Hydrotherapy is the use of water in the treatment of different conditions, including arthritis. It differs from just swimming in the local river because it involves special exercises that your dog does in a warm water pool. The inflammation and discomfort experienced with arthritis can make it difficult for your dog to move around and unfortunately, this can lead to your dog losing muscle mass. The wonderful thing about hydrotherapy is, even with an older dog who has already experienced muscle loss, the resistance and buoyancy that water provides mean your dog can exercise more comfortably in a completely non-weight bearing environment. Gemma Kolodziejczyk, owner of Buxton K9 Hydrotherapy, is a customer of Winston & Porter and believes that combining hydrotherapy with Winston & Porter's Hip & Joint supplementis key. She says:
"When I spoke to Dev [owner of Winston & Porter] he told me that it would take around 2 weeks before I saw any results. I started my 13 year old border collie on the hip and joint supplement and after just 2 weeks, she jumped onto my bed which I hadn't seen her do for at least 18 months or 2 years! Now I sell it at my Hydrotherapy Centre and it sells like wild fire!"
So what is so special about Winston & Porter's supplements?
Dev McManus, owner of Winston & Porter, says:
"Our Hip and Joint rescue supplements were developed after a great deal of scientific research and we are proud to say that they are now some of the most effective canine joint supplements on the market today. We didn't want to develop a mediocre supplement range for dogs and horses. We wanted to challenge the bigger brands already out there and offer incredible supplements that really work, at more competitive prices. We believe we have achieved this."
Click here to view a comparison of table of dog supplements All of our supplements (canine and equine ranges alike), contain high levels of essential ingredients in the right combinations. Our Hip and Joint Rescue canine supplement contains a quadruple high strength combination of Glucosamine, Chondroitin, MSM and Hyaluronic Acid (HA). The plus version also contains a natural anti-inflammatory and pain reliever called Serrapeptase. Serrapeptase is a proteolytic enzyme produced by the silkworm and it works wonderfully to make your dog more comfortable and able to go about their daily life more easily. It is also effective at breaking down scar tissue from recent or old injury sites in the body, which can actually cause more pain that the original injury. Dev goes on to say,
"The reviews really do speak for themselves. Time after time, we hear that dogs taking our supplements have seen improvements in their mobility, they have more energy, their coats look better and they are more comfortable. It's fantastic and we're very proud to be able to deliver that to so many families."
Whether you're looking to get your dog back on his feet after surgery, ease his arthritic pain or just keep him in good shape generally - hydrotherapy could be just what you're looking for. This article focusses on the benefits of combining our premium quality canine supplements with canine hydrotherapy in an effort to support dogs who might be suffering with arthritis, hip dysplasia, limping and other such inflammations causing pain or discomfort.